A powerful
global network to
manage your risks
locally
Coface is home to the largest international network of all the players on the market - meaning we can manage the risk of export arrears in sync with specific local conditions. By leveraging our top-tier network, Coface can meet a wide range of needs, including providing cover for subsidiaries of our multinational client companies via a single contract.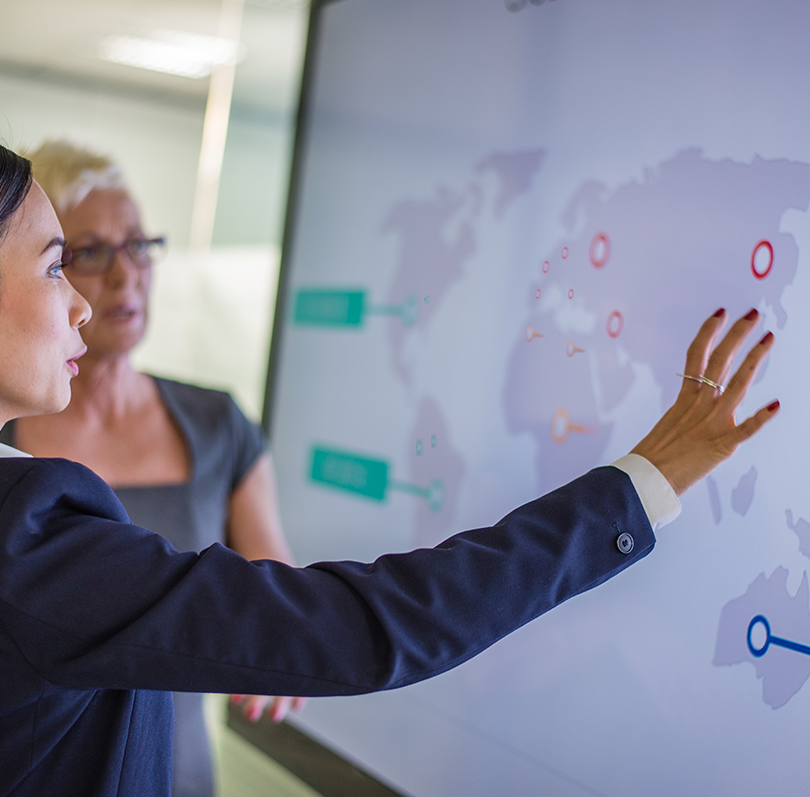 An international company with global and local expertise
We help our clients today in nearly 100 countries, either directly or via our network of partners, and we support them in around 200 markets.
The Group boasts a portfolio of licences in nearly every major market in the world - meaning we can issue insurance contracts directly and deliver credit insurance solutions quickly.
America

700

employees

Asia Pacific

500

employees

Central and Eastern Europe

1000

employees

Northern Europe

700

employees

Western Europe

1000

employees

Mediterranean & Africa

900

employees
Our solutions
What makes Coface a global
leader
Seasoned teams supporting companies in a wide range of markets.
+75

years of experience

+4,700

employees in 58 countries

50k

client companies

~200

markets covered
Coface's powerful geographical network
enables us to be close to our clients and to manage risks by adapting to local realities.
France
Coface Croatia

Avenija Dubrovnik 46


10000, Zagreb
Coface Morocco SA

225 Boulevard d'Anfa


20250, Casablanca
Coface Argentina

Camila O'Gorman 412,
Piso 2°,
Oficinas 201 y 202

(C1107DED), Caba
Coface Australia

1 Market Street,
Level 11


GPO Box 129 Sydney NSW 2001, NSW 2000, Sydney

Coface Australia - Melbourne

Level 10, 350 Collins Street


VIC 3000, Melbourne
Coface Austria

Marxergasse 4c


1030, Vienna
Coface UAE - Emirates Services Ltd. & Coface Credit Insurance GCC Ltd.

701, Emirates Financial Towers (South),
DIFC, PO Box


506598, Dubai
Coface UAE - Emirates Services Ltd. & Coface Credit Insurance GCC Ltd.

701, Emirates Financial Towers (South),
DIFC, PO Box


506598, Dubai
Coface Belgium

Vorstlaan 100,
Boulevard du Souverain


B-1170, Brussels

Coface Belgium - Gent

Rijvisschestraat 124


B-9052, Gent
Coface Cameroon - Coface Services West Africa

264 Rue De La Motte Picquet,
Bonanjo


BP 1842, Douala
Coface Croatia

Avenija Dubrovnik 46


10000, Zagreb
Coface Brazil

Pça. João Duran Alonso
34 - 10º Andar
Brooklin Novo

CEP 04571-070, São Paulo - SP
Coface UAE - Emirates Services Ltd. & Coface Credit Insurance GCC Ltd.

701, Emirates Financial Towers (South),
DIFC, PO Box


506598, Dubai
Coface Bulgaria

76A, James Bourchier Street,
Business center Hill Tower


1407, Sofia
Coface Cameroon - Coface Services West Africa

264 Rue De La Motte Picquet,
Bonanjo


BP 1842, Douala
Coface Morocco SA

225 Boulevard d'Anfa


20250, Casablanca
Coface Canada

2234 Sheppard Ave. East
Suite 902B
North York

ON M2J 5B4, Toronto

Coface Canada - Montreal

1 Holiday Ave
West Tower
Suite 450

Montreal, QC, H9R 5N3, Pointe-Claire
Coface Chile

Magdalena 140,
Piso 24,
Oficina 2402

Las Condes - Santiago
Coface China - (Shanghai) Information Services co., LTD

Shanghai Central Plaza,
Suite 626-39,
381 Middle Huaihai Road

200020, Shanghai
Coface Colombia

Calle 91 N°11,
29 Edificio 91.11 Piso 5


Bogotá
Coface Croatia

Avenija Dubrovnik 46


10000, Zagreb
Coface Greece

10 Kifisias Ave.


15125, Marousi Athens
Coface Czech

Štětkova 1638/18


140 00, Praha 4 - Nusle
Coface Denmark

Jens Ravns Vej 11 C


7100, Vejle
Coface UAE - Emirates Services Ltd. & Coface Credit Insurance GCC Ltd.

701, Emirates Financial Towers (South),
DIFC, PO Box


506598, Dubai
Coface Ecuador

Av. 6 de Diciembre y Jean-Baptiste Boussingault
Edificio Torre 6,
Oficina 706

Quito

Coface Ecuador - Guayaquil

Salida norte del Aeropuerto José Joaquín de Olmedo
Edificio Sky Building
Piso 4 Oficina 412

Guayaquil
Coface UAE - Emirates Services Ltd. & Coface Credit Insurance GCC Ltd.

701, Emirates Financial Towers (South),
DIFC, PO Box


506598, Dubai
Coface Lithuania

A. Tumeno str. 4


LT-01109, Vilnius
Coface Finland - Filial i Sverige

Mannerheimintie 12b


00100, Helsinki
Coface France Est

Immeuble le Cap
44 avenue du Rhin


67100, Strasbourg

Coface France Headquarter

1, place Costes et Bellonte


92270, Bois-Colombes

Coface France Ouest

13/15 rue de la Rabotière (3eme étage)


44800, Saint Herblain

Coface France Sud Est

Immeuble l'@dresse
51 Rue de St Cyr,
(3eme étage)

69009, Lyon

Coface France Sud Ouest

Immeuble Burolines 1
2bis rue Marcel Doret
2e étage

31700, Blagnac
Coface Cameroon - Coface Services West Africa

264 Rue De La Motte Picquet,
Bonanjo


BP 1842, Douala
Coface UAE - Emirates Services Ltd. & Coface Credit Insurance GCC Ltd.

701, Emirates Financial Towers (South),
DIFC, PO Box


506598, Dubai
Coface Germany, Niederlassung in Deutschland

Isaac-Fulda-Allee 1


55124, Mainz

Coface Germany, Niederlassung in Deutschland - Berlin

c/o Design Offices Berlin GmbH
Budapester Straße 35


10787, Berlin

Coface Germany, Niederlassung in Deutschland - Bielefeld

c/o ecos office center Bielefeld
Herforder Straße 69


33602, Bielefeld

Coface Germany, Niederlassung in Deutschland - Hamburg

c/o Design Offices Domplatz GmbH
Domstraße 10


20095, Hamburg

Coface Germany, Niederlassung in Deutschland - Köln

Max-Planck-Str. 2


50858, Köln

Coface Germany, Niederlassung in Deutschland - München

c/o Design Offices Arnulfpark GmbH
Luise-Ullrich-Straße 14


80636, München

Coface Germany, Niederlassung in Deutschland - Nürnberg

c/o Design Offices Nürnberg GmbH
Bahnhofstraße 2


90402, Nürnberg

Coface Germany, Niederlassung in Deutschland - Stuttgart

c/o Design Offices Stuttgart GmbH
Lautenschlagerstraße 23a


70173, Stuttgart
Coface Cameroon - Coface Services West Africa

264 Rue De La Motte Picquet,
Bonanjo


BP 1842, Douala
Coface Greece

10 Kifisias Ave.


15125, Marousi Athens
Coface Mexico

Insurgentes Sur 1685,
Piso 15


CP 01020, Ciudad de México

Coface Mexico - Monterrey

Torre Avalanz. Batallon de San Patricio 109 Sur
Col. Valle Oriente
San Pedro Garza Garcia

C.P. 64660, Nuevo Leon, México
Coface UAE - Emirates Services Ltd. & Coface Credit Insurance GCC Ltd.

701, Emirates Financial Towers (South),
DIFC, PO Box


506598, Dubai
Coface Hong Kong S.A.R

Unit A, 31/F, Lee & Man Commercial Center


Hong Kong
Coface Hungary

Váci út 45. H/7


1134, Budapest
Coface Denmark

Jens Ravns Vej 11 C


7100, Vejle
Coface India

101A, Platina C-59
"G" Block,
Bandra-Kurla Complex

12190, Mumbai

Coface India - Bangalore

Level 2, Prestige Obelisk
No. 3, Kasturaba Road


560001, Bangalore
Coface India

101A, Platina C-59
"G" Block,
Bandra-Kurla Complex

12190, Mumbai

Coface India - Bangalore

Level 2, Prestige Obelisk
No. 3, Kasturaba Road


560001, Bangalore
Coface United Kingdom

34 Clarendon Road


WD17 1JJ, Watford

Coface United Kingdom - London

New Broad Street House
35 New Broad Street


EC2M 1NH, London

Coface United Kingdom - Cardiff

The Maltings,
East Tyndall Street


CF24 5EA, Cardiff
Coface Israel

Israël Hachsharat Hayeshuv Tower Jabotinsky 9 sT
23 floor


Bnei Brak
Coface Italy

Via Lorenteggio 240


20147, Milano

Coface Italy - Agenzia Generale di Padova (Treviso)

Viale Appiani n. 2/C


31100, Treviso

Coface Italy - Agenzia Generale di Reggio Emilia(Parma)

Piazza C.A. Dalla Chiesa, 3


43121, Parma

Coface Italy - Agenzia Generale di Alessandria

Via Carlo Pisacane 23/A


15121, Alessandria

Coface Italy - Agenzia Generale di Ancona

Via Sandro Totti n. 3


60131, Ancona

Coface Italy - Agenzia Generale di Bari

Via Principe Amedeo n. 25


70121, Bari

Coface Italy - Agenzia Generale di Belluno

Via Ippolito Caffi 3


32100, Belluno

Coface Italy - Agenzia Generale di Biella 1

Piazza Casalegno 9/A


13900, Biella

Coface Italy - Agenzia Generale di Biella 2

Via Trieste 10/B


13900, Biella

Coface Italy - Agenzia Generale di Bologna

Via Massarenti 14/B


40138, Bologna

Coface Italy - Agenzia Generale di Brescia (Bergamo)

Via Simoncini n. 14


24126, Bergamo

Coface Italy - Agenzia Generale di Brescia 1

Via Aldo Moro 13


25124, Brescia

Coface Italy - Agenzia Generale di Brescia 2

Via Solferino n. 61/A-B


25121, Brescia

Coface Italy - Agenzia Generale di Cagliari

Via Grazia Deledda 48


09127, Cagliari

Coface Italy - Agenzia Generale di Catania

Viale Vittorio Veneto 281


95127, Catania

Coface Italy - Agenzia Generale di Erba

Corso XXV Aprile n. 175/A


22036, Como (Erba)

Coface Italy - Agenzia Generale di Genova

Via XX Settembre 26/4


16121, Genova

Coface Italy - Agenzia Generale di Livorno

Via Grotta delle Fate 41 int 1


57128, Livorno

Coface Italy - Agenzia Generale di Macerata

Via Trento 33 - int. 16 e 17


62100, Macerata

Coface Italy - Agenzia Generale di Milano 1

Via Giacomo Quarenghi 27


20151, Milano

Coface Italy - Agenzia Generale di Milano 2

Via Aldo Manuzio 13


20124, Milano

Coface Italy - Agenzia Generale di Milano 3

Via Valtellina 18


20159, Milano

Coface Italy - Agenzia Generale di Milano 4

Via Matteo Bandello 1


20123, Milano

Coface Italy - Agenzia Generale di Napoli

Centro Direzionale Isola F11, 4°p. - int. 51


80143, Napoli

Coface Italy - Agenzia Generale di Napoli (Salerno)

Via Giacinto Carucci, 1/5


84124, Salerno

Coface Italy - Agenzia Generale di Padova

Via S. Crispino, 28


35129, Padova

Coface Italy - Agenzia Generale di Palermo

Via Giacomo Cusmano 28


90141, Palermo

Coface Italy - Agenzia Generale di Parma

Galleria Bassa dei Magnani, 3


43121, Parma

Coface Italy - Agenzia Generale di Perugia

Via della Madonna Alta 128


06128, Perugia

Coface Italy - Agenzia Generale di Pesaro

Via Sirolo 24


61122, Pesaro

Coface Italy - Agenzia Generale di Pescara 2

Via Cetteo Ciglia 8


65129, Pescara

Coface Italy - Agenzia Generale di Pescara 3

Via Messina 7


65122, Pescara

Coface Italy - Agenzia Generale di Pescara(Avezzano)

Via Montello, 111


67051, Avezzano

Coface Italy - Agenzia Generale di Piacenza

Via Manfredi 120


29100, Piacenza

Coface Italy - Agenzia Generale di Pisa

Via Campania, 23


Cascina, 56021, Pisa

Coface Italy - Agenzia Generale di Prato

Via Attilio Cerutti, 10/12


59100, Prato

Coface Italy - Agenzia Generale di Ravenna

Via Meucci 1, Scala C


48100, Ravenna

Coface Italy - Agenzia Generale di Reggio Emilia

Via Roma 22


42121, Reggio Emilia

Coface Italy - Agenzia Generale di Reggio Emilia(Modena)

Via Vellani Marchi, 80


41126, Modena

Coface Italy - Agenzia Generale di Roma 1

Via Terenzio 35


00193, Roma

Coface Italy - Agenzia Generale di Roma 2

Via dei Serpenti, 170


00184, Roma

Coface Italy - Agenzia Generale di Roma 3

Via Nomentana, 63


00198, Roma

Coface Italy - Agenzia Generale di Roseto degli Abruzzi

Via Metauro 7


Roseto degli Abruzzi, 64026, Teramo

Coface Italy - Agenzia Generale di San Marino

Via Alfonso Giangi n. 13/B


47891, San Marino

Coface Italy - Agenzia Generale di Torino 1

C.so Unione Sovietica 409


10135, Torino

Coface Italy - Agenzia Generale di Torino 2

Viale Luigi Beltramo n.3


Rivoli, 10098, Torino

Coface Italy - Agenzia Generale di Udine

Via Marco Volpe 43


33100, Udine

Coface Italy - Agenzia Generale di Varese

Via Cavour 13 - c.p. 110


21100, Varese

Coface Italy - Agenzia Generale di Verona

Piazza del Popolo, 15


San Martino Buon Albergo, 37036, Verona

Coface Italy - Ufficio di Campobasso, Agenzia Generale di Bari

Piazza Della Vittoria 14/B


86100, Campobasso

Coface Italy - Ufficio di Caserta, Agenzia Generale di Napoli

Via Roma, 17


81100, Caserta
Coface Morocco SA

225 Boulevard d'Anfa


20250, Casablanca
Coface Japan

Atago Green Hills,
MORI Tower 38/F
2-5-1 Atago, Minato-Ku

105-6238, Tokyo

Coface Japan - Osaka

Hilton Plaza West 19F
2-2-2 Umeda, Kita-Ku


530-0001, Osaka
Coface UAE - Emirates Services Ltd. & Coface Credit Insurance GCC Ltd.

701, Emirates Financial Towers (South),
DIFC, PO Box


506598, Dubai
Coface Russia

2nd Brestskaya St., 8
"Panorama" Business Centre,
9th floor

125047, Moscow
Coface UAE - Emirates Services Ltd. & Coface Credit Insurance GCC Ltd.

701, Emirates Financial Towers (South),
DIFC, PO Box


506598, Dubai
Coface Lithuania

A. Tumeno str. 4


LT-01109, Vilnius
Coface UAE - Emirates Services Ltd. & Coface Credit Insurance GCC Ltd.

701, Emirates Financial Towers (South),
DIFC, PO Box


506598, Dubai
Coface Germany, Niederlassung in Deutschland

Isaac-Fulda-Allee 1


55124, Mainz

Coface Germany, Niederlassung in Deutschland - Berlin

c/o Design Offices Berlin GmbH
Budapester Straße 35


10787, Berlin

Coface Germany, Niederlassung in Deutschland - Bielefeld

c/o ecos office center Bielefeld
Herforder Straße 69


33602, Bielefeld

Coface Germany, Niederlassung in Deutschland - Hamburg

c/o Design Offices Domplatz GmbH
Domstraße 10


20095, Hamburg

Coface Germany, Niederlassung in Deutschland - Köln

Max-Planck-Str. 2


50858, Köln

Coface Germany, Niederlassung in Deutschland - München

c/o Design Offices Arnulfpark GmbH
Luise-Ullrich-Straße 14


80636, München

Coface Germany, Niederlassung in Deutschland - Nürnberg

c/o Design Offices Nürnberg GmbH
Bahnhofstraße 2


90402, Nürnberg

Coface Germany, Niederlassung in Deutschland - Stuttgart

c/o Design Offices Stuttgart GmbH
Lautenschlagerstraße 23a


70173, Stuttgart
Coface Lithuania

A. Tumeno str. 4


LT-01109, Vilnius
Coface Belgium

Vorstlaan 100,
Boulevard du Souverain


B-1170, Brussels

Coface Belgium - Gent

Rijvisschestraat 124


B-9052, Gent
Coface Croatia

Avenija Dubrovnik 46


10000, Zagreb
Coface Hong Kong S.A.R

Unit A, 31/F, Lee & Man Commercial Center


Hong Kong
Coface Cameroon - Coface Services West Africa

264 Rue De La Motte Picquet,
Bonanjo


BP 1842, Douala
Coface Greece

10 Kifisias Ave.


15125, Marousi Athens
Coface UAE - Emirates Services Ltd. & Coface Credit Insurance GCC Ltd.

701, Emirates Financial Towers (South),
DIFC, PO Box


506598, Dubai
Coface Morocco SA

225 Boulevard d'Anfa


20250, Casablanca
Coface Mexico

Insurgentes Sur 1685,
Piso 15


CP 01020, Ciudad de México

Coface Mexico - Monterrey

Torre Avalanz. Batallon de San Patricio 109 Sur
Col. Valle Oriente
San Pedro Garza Garcia

C.P. 64660, Nuevo Leon, México
Coface Slovenia

Trdinova ulica 4


1000, Ljubljana
Coface Morocco SA

225 Boulevard d'Anfa


20250, Casablanca
Coface Netherlands

Stadionstraat 20


4815 NG, Breda
Coface New Zealand

G01/31 Northcroft Street,
Takapuna


0622, Auckland
Coface UAE - Emirates Services Ltd. & Coface Credit Insurance GCC Ltd.

701, Emirates Financial Towers (South),
DIFC, PO Box


506598, Dubai
Coface UAE - Emirates Services Ltd. & Coface Credit Insurance GCC Ltd.

701, Emirates Financial Towers (South),
DIFC, PO Box


506598, Dubai
Coface Norway

Dronning Eufemias gate 16,
14th floor


0191, Oslo
Coface UAE - Emirates Services Ltd. & Coface Credit Insurance GCC Ltd.

701, Emirates Financial Towers (South),
DIFC, PO Box


506598, Dubai
Coface UAE - Emirates Services Ltd. & Coface Credit Insurance GCC Ltd.

701, Emirates Financial Towers (South),
DIFC, PO Box


506598, Dubai
Coface Mexico

Insurgentes Sur 1685,
Piso 15


CP 01020, Ciudad de México

Coface Mexico - Monterrey

Torre Avalanz. Batallon de San Patricio 109 Sur
Col. Valle Oriente
San Pedro Garza Garcia

C.P. 64660, Nuevo Leon, México
Coface Argentina

Camila O'Gorman 412,
Piso 2°,
Oficinas 201 y 202

(C1107DED), Caba
Coface Peru

Calle Las Begonias 441 Piso 9
SAN ISIDRO


Lima 27
Coface Hong Kong S.A.R

Unit A, 31/F, Lee & Man Commercial Center


Hong Kong
Coface Poland

Al. Jerozolimskie 142 A


02-305, Warsaw

Coface Poland - Gdynia

ul. Sportowa 8


81-300, Gdynia

Coface Poland - Katowice

ul. Żelazna 2, piętro 5


40-851, Katowice

Coface Poland - Kraków

ul. Jasnogórska 9 B


31-358, Kraków

Coface Poland - Poznań

ul. Królowej Jadwigi 43


61-871, Poznań
Coface Portugal - Delegação Territorial Norte

Via Engº. Edgar Cardoso, nº23
9ºF - Edifício Tower Plaza


4400 - 676, Vila Nova de Gaia

Coface Portugal - Delegação Territorial Sul

Av. José Malhoa,
nº 16-B - 7º Piso - Fração B1,
Edifício Europa,

1070-159, Lisboa
Coface UAE - Emirates Services Ltd. & Coface Credit Insurance GCC Ltd.

701, Emirates Financial Towers (South),
DIFC, PO Box


506598, Dubai
Coface Romania

42 Pipera St.
6th Floor
Globalworth Plaza Building

District 2, 020112, Bucharest

Coface Romania - Cluj-Napoca

107 Republicii Str.
3rd floor


400489, Cluj-Napoca
Coface Russia

2nd Brestskaya St., 8
"Panorama" Business Centre,
9th floor

125047, Moscow
Coface UAE - Emirates Services Ltd. & Coface Credit Insurance GCC Ltd.

701, Emirates Financial Towers (South),
DIFC, PO Box


506598, Dubai
Coface Morocco SA

225 Boulevard d'Anfa


20250, Casablanca
Coface Serbia d.o.o.

Šajkaška 21


11060, Belgrade
Coface Singapore

1 Raffles Place
#14-62 One Raffles Place Tower 2


048616, Singapore
Coface Slovakia

Vajnorská 100/B


831 04, Bratislava
Coface Slovenia

Trdinova ulica 4


1000, Ljubljana
Coface South Africa

HEAD OFFICE - JOHANNESBURG,
3021 Winnie Mandela Drive,
Johannesburg Northern Suburbs

Bryanston, Johannesburg
Coface Hong Kong S.A.R

Unit A, 31/F, Lee & Man Commercial Center


Hong Kong
Coface Spain

C/ Vía de los Poblados,
3. Parque Empresarial Cristalia,
Edificio 6, Planta 5

28033, Madrid

Coface Spain - Alicante

Avenida Perfecto Palacio de la Fuente, 1,
oficina 523


3003, Alicante

Coface Spain - Dirección Territorial de Aragón

Edificio Torre Aragonia
Avda. Juan Pablo II, 35, 3ª planta


50009, Zaragoza